Ultrasonic Gas Meter GUVR-011 A2.2/IS/314 with autonomous power supply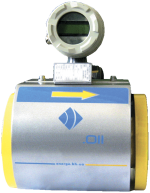 TECHNICAL FEATURES
Meters provide gas measurement in pipes with nominal diameter (DN) of 50 to 300 mm.
Measurement range of gas flow rates varies from 0.15 to 35.0 m/s.
The flow rate of gas which has passed through the pipeline in the reverse direction has a negative value.
Communication with the meter is performed via RS-232/RS-485 interface.
Information sharing protocol – ModBus RTU.
RS-232 communication link only works when there is an external supply voltage of 8 to 9 V.
Meter is powered by built-in lithium battery with capacity of 19 Ah, service life of 2 years.
Meters are made (on the order conditions) at a maximum operating pressure of 1.6; 6.3; 10 and 16 MPa.
TECHNICAL CHARACTERISTICS
DN
mm
Volume flow rate, m3/h
Dimension

type

Threshold,

Qthr

Minimal,

Qmin

Transition,

Qt

Maximal,

Qmax

50
G160
0,2
1,0
8,0
250
80
G400
0,2
1,0
8,0
250
100
G650
0,8
4,0
33,0
1000
150
G1600
2,0
10,0
80,0
2500
200
G2500
3,4
17,0
133,0
4000
250
G4000
5,0
26,0
200,0
6500
300
G6500
8,0
40,0
325,0
10000
LIMITS OF PERMISSIBLE MAIN RELATIVE ERROR OF FLOW METERS
Flow rate value
Limits of permissible main relative error, %
from Qmin up to Qt
±2
from Qt up to Qmax
±1