Data acquisition and processing system
Purpose of data acquisition and processing systems:
collection of information from distant objects;
transfer of the collected information to the control room for its further processing;
handling of emergency situations and their transfer to the control room.
For data collection system using GSM / GPRS communication channel, a controller with the following parameters is designed:
Supply voltage: 9 … 18V;
Dimensions in mm: 120*170*40;
The number of the COM-ports: 3;
The exchange rate via COM-ports: RS-232, RS-485.
Application of data acquisition system using a GPRS communication system is justified when the use of wire data transmission is impossible or economically unfeasible. Packet data transmission allows you to perform PTM (Point-to-Multipoint) connection providing a parallel survey of a number of peripheral nodes through one dispatching desk.
Peripheral devices can be in form of electricity meters, flow meters, flow computers, mass flow meters and other devices with RS-232/485 interface output or a different standard output signal (current or frequency).
The peripheral communication equipment is mounted in the cabinet and requires an connection and external power supply. To ensure the smooth operation of the communication node, it can be equipped with battery ensuring operation in the event of power failure.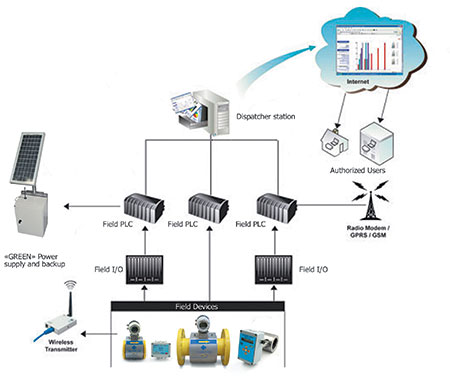 To prevent emergency situations or unauthorized access, the controller is equipped with additional digital and analog inputs which can be connected to the limit switch cabinet or object security system. Notice of such situations are sent not only to the control room, but also in specific individuals in the form of SMS-messages.
The modular solution allows you to quickly install communication equipment at the site and connect to it devices located at a distance of 1-1000 m.
Typical application of the GPRS communication unit is its integration into complex metering units such as:
metering units of gas, water, heat;
metering units of oil and oil products;
group metering stations;
electricity metering stations.
The software installed in the control room allows you to specify the period of data reading from the instruments and view current and historical values of the devices, generate reports.